About this Guide
By definition, a segment is a grouping of your audience who shares common attributes. Segmentation helps you get the right message to the right people.
Examples of segments include consumers in a 30-day trial who have not completed a purchase or customers whose membership expires next month.
Once you identify a segment, you can target the segment with specific messages using the channels most appropriate for that segment. And, using personalization, content is uniquely targeted at each individual. The end result is each person receives content targeted and personalized to them through the channel (email, text messaging, push notification, etc.) most appropriate to them.
What's included
We've divided this guide into four main sections:
What is Audience Segmentation?
Audience segmentation is when brands place their contacts, leads and customers into groups. By identifying each group, you can develop more effective marketing strategies.
Best practices for your target audience marketing strategy
Reaching and properly communicating with your target audience is important to grow your business. Reaching the right audience group increases brand awareness and credibility and grows trusting relationships with interested consumers.
3 benefits of integrating your CRM and POS
Customer-relationship-management (CRM) and point-of-sale (POS) software can work together to create a comprehensive customer experience. When you integrate them into one system, such as DailyStory, they can provide new insights about what you can do to acquire and retain more customers.
What DailyStory can do for you
DailyStory is a marketing automation platform. It helps you take your existing and new marketing campaigns and execute them with process, consistency and measurement. It does this with a set of common marketing tools (text message marketing, email marketing, pop-ups, website, landing pages), provides reporting around those, but most importantly enables powerful automation to enable you to run automated campaigns.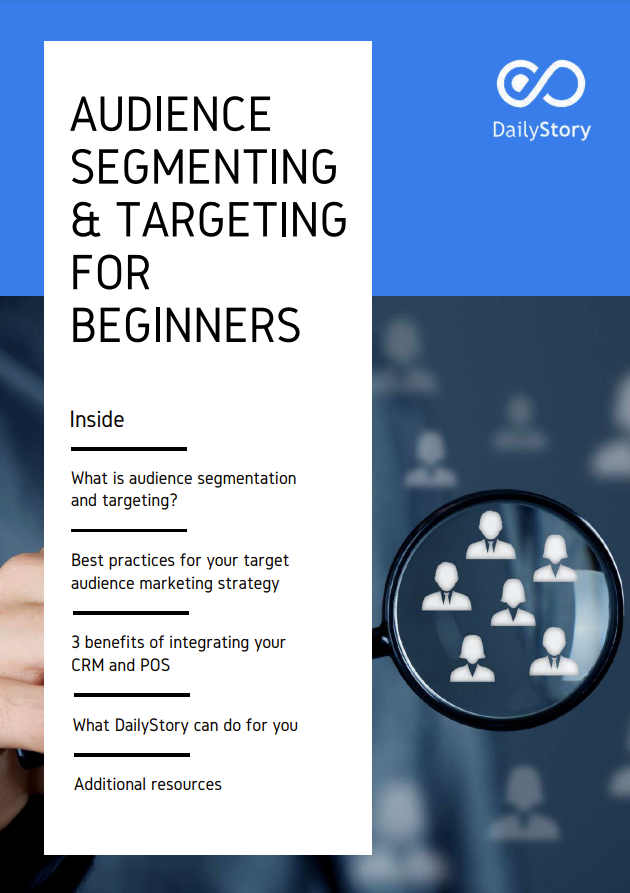 Download the Guide
Complete the form to get the Audience Segmenting and Targeting for Beginners guide sent to your email address.