About this Guide
By definition, automation is something that software does exceptionally well, taking a task and performing it repeatedly following a set of rules.
Automation itself refers to any activity that you don't have to do in real-time (and perhaps don't have to do yourself at all).
Marketing automation, by nature then, refers to any outbound marketing (like email and text messages) that automatically happens in response to a user's actions that were made or not made.
Because automated tasks can include so many possibilities, the strategies and tips in this guide will help ensure you maintain your focus and use marketing automation to improve your digital marketing results and ultimately grow your business.
What's included
We've divided this guide into five main sections:
9 reasons why automation matters to your marketing
Automated marketing bridges the gap between transactional messages (like receipts or password resets) and traditional digital marketing (like promotions and email newsletters). They enable you to automatically follow up with users individually with the bonus of customized content.
How to approach automation in your marketing strategy
Marketing automation technology has come a long way over the years, but
your automation is only as powerful as the thought process behind it.
A deep dive into email automation with 14 examples to inspire you
In general, email marketing is a type of marketing that shares details about your business, products, services, discounts and other information with your customers and potential customers through emails.
7 opportunities for social media automation you might not have thought of
Social media automation is a must for any small business. It both saves time and helps you stay consistent across social media platforms. Automation itself refers to any activity that you don't have to do in real-time (and perhaps don't have to do yourself at all).
What DailyStory does to help your business
DailyStory is a marketing automation platform. It helps you take your existing and new marketing campaigns and execute them with process, consistency and measurement. It does this with a set of common marketing tools (text message marketing, email marketing, pop-ups, web forms, landing pages), provides reporting around those, but most importantly enables powerful automation to enable you to run automated campaigns.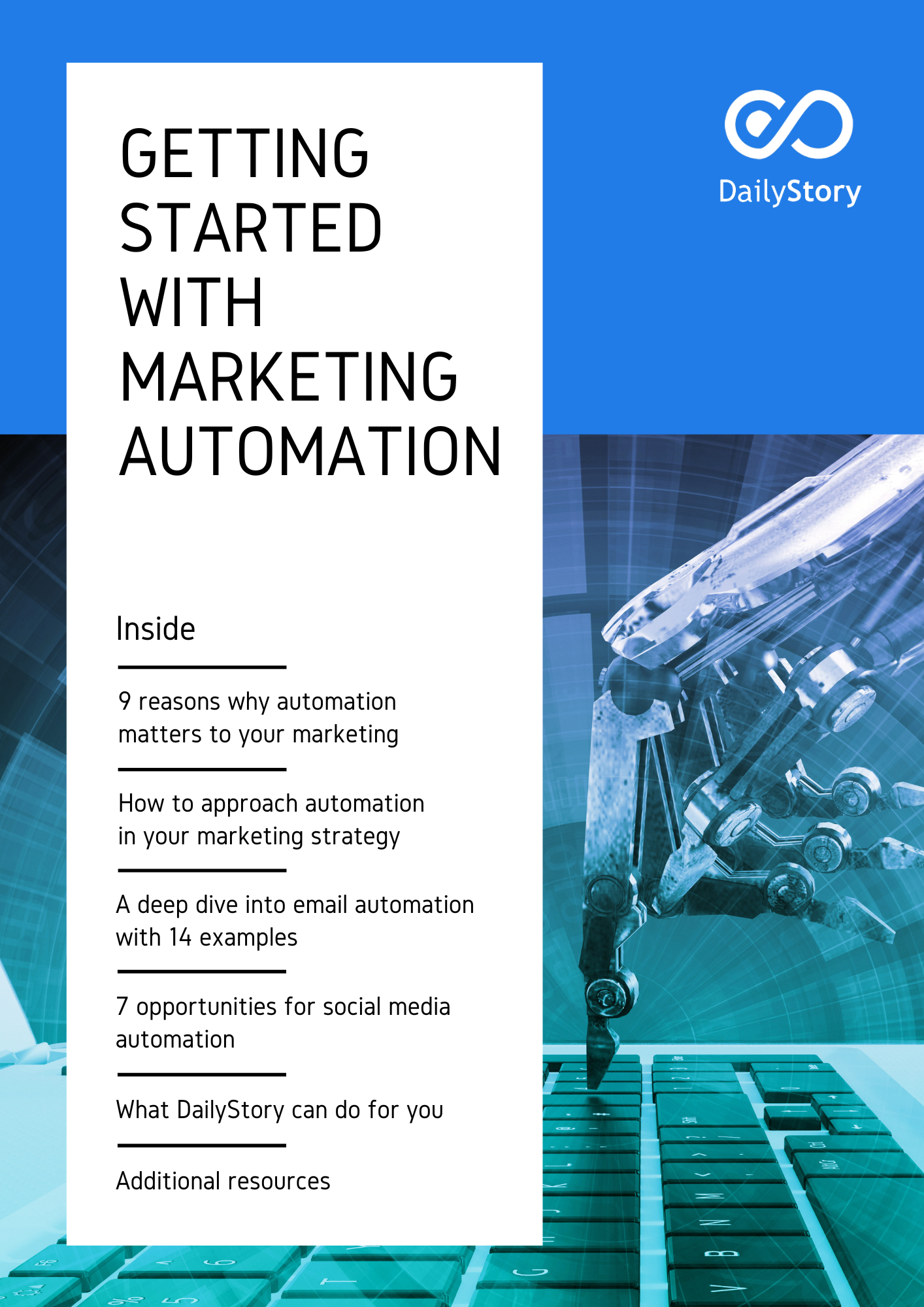 Download the Guide
Complete the form to get the Getting Started with Marketing Automation guide sent to your email address.