About this Guide
Search engine optimization, also referred to as SEO, is critical for every website, but it's also achievable, even for beginners. SEO is all about ensuring that your website content ranks high in relevant search engine results. Of course, the higher you land in search rankings, the more website traffic you'll see. The more traffic you drive, the more potential sales and revenue you can generate.
On the first page of Google search results, for example, the first five organic results account for about 68 percent of all the resulting clicks.
The effort is worthwhile. About 49 percent of marketers say that organic search has the best return on investment (ROI) of any marketing channel. But successful SEO is so much more than just using relevant keywords.
The strategies and tips in this guide will help ensure that your SEO efforts ultimately boost your search engine rankings and grow your organic website traffic overtime.
What's included
We've divided this guide into five main sections:
12 SEO tips for beginners
Search Engine Optimization does not have to be complicated. It's important to simplify and break down what you can do now and then build up those efforts over time. Included are 12 SEO marketing tips for beginners that you can start using today.
Mobile SEO and how to boost your mobile presence
Mobile SEO simply refers to the practice of optimizing your website for mobile devices. Doing so helps increase your site's visibility in mobile-device search results.
How you can beat your competition with Local SEO
Local SEO is when search engines rely on signals (such as local content, social profile pages, links and citations) to provide the most relevant local results to the user. It's all about delivering the best and more relevant local search engine results.
13 common SEO mistakes and how to avoid them
SEO is merely the practice of increasing the amount of traffic your website gets through organic search engine results. But the practice of it can be a bit more complex and always a work in progress even for the most savvy websites and businesses.
What DailyStory does to help your business and compliment your SEO goals
DailyStory is a marketing automation platform. It helps you take your existing and new marketing campaigns and execute them with process, consistency and measurement. It does this with a set of common marketing tools (text message marketing, email marketing, pop-ups, website, landing pages), provides reporting around those, but most importantly enables powerful automation to enable you to run automated campaigns.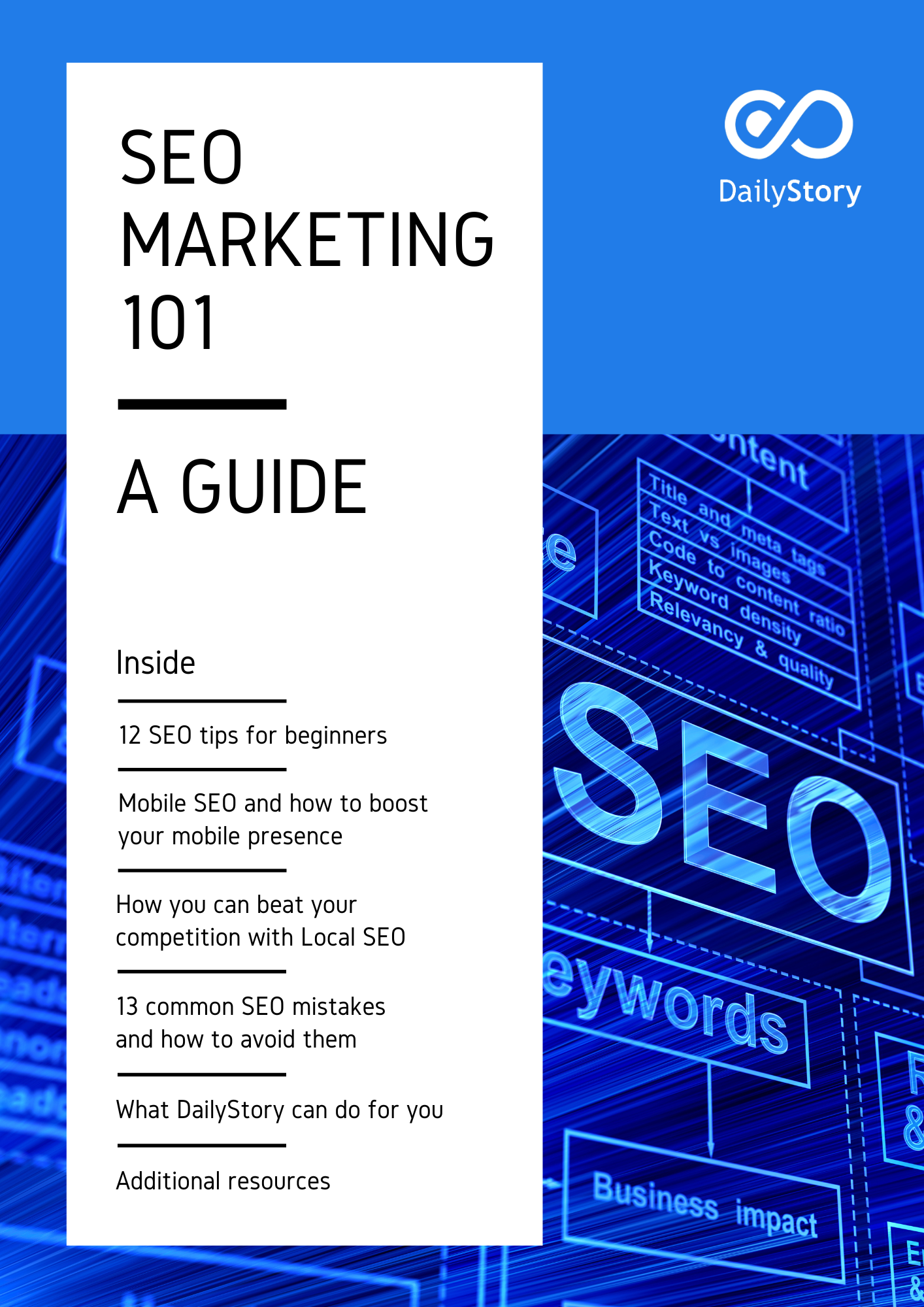 Download the Guide
Complete the form to get the SEO Marketing 101 guide sent to your email address.