What is a GIF?
GIFs are a type of image file format (Graphics Interchange Format) that can store multiple image files and present them sequentially, creating an animated effect.
The human brain processes images about 60,000 times faster than words. When your goal involves being as eye-catching and engaging as possible, it's tough not to consider using GIFs in your branded marketing.
GIPHY, a popular GIF website, serves more than 7 billion GIFs per day, seen by more than 500 million daily active users who watch more than 11 million hours of GIFs every day.
The history of GIF files
GIFs were created in 1987 when software developer Steve Wilhite was trying to use animated images that didn't have an extremely large file size. GIFs use an infinite loop that autoplays upon loading and are compatible with different operating systems and browsers. High-quality GIFs look nearly identical to videos.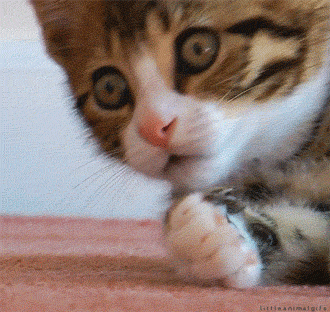 In other words, GIFs are far more interesting to the eye than static images and add movement to your content. If they're right for your industry and used well, they can help you stand out from your competitors.
Sidebar: how is GIF pronounced?
Is GIF pronounced like gift (minus the t) or jiff? This is a timeliness Internet debate. The consensus is jiff (like Jiffy peanut butter).
The following are eight GIF best practices for your digital marketing efforts.
Get creative with how to use GIFs
There are endless ways you can use GIFs in your digital marketing. Here are some examples:
Express emotions and personality. If your brand personality leans toward the fun or wacky, GIFs are a great way to showcase that.
Tell stories. GIFs can be very effective when used for storytelling.
Explain processes or show products. Launching a new product? Consider showing it off in a high-energy GIF. Is there a process that could be easier to understand through the animation of a GIF? Loop the steps in an easy-to-understand presentation.
Animate your data. Your audience may appreciate the visual appeal of watching your charts and graphs come to life.
Replace video. This comes in handy especially when file size is a factor or the medium otherwise can't directly embed video in an efficient way (such as email).
Highlight your call-to-action. GIFs can complement your CTAs, where the goal is to draw attention.
Launch your own branded GIF channel on GIPHY. The platform could expand your reach to new audiences.
Truly, most of your digital marketing content could incorporate a GIF in some way. You're mostly just limited by your imagination.
Get organized with a content calendar
Because there are so many ways you can use GIFs, it's best to get organized.
But in general, a content calendar will help you strategically plan not just when and where to use GIFs in your digital marketing but also what the GIF content itself should be. This can help you plan content for all occasions.
You also can include a section to bookmark any brainstorming ideas as they arise. The key is that you begin incorporating GIFs as part of your ongoing strategy.
Aim for subtle branding in your GIFs
Of course, when creating a GIF, you're going to want to incorporate your branding into it. That branding can include a watermark, product placement, colors, fonts and so on.
But strive to keep the branding light as a best practice.
Focus on entertainment first and brand placement second.
This recommendation goes back to the way many use GIFs, which is to enhance digital conversations. If your branding is over the top, your GIF is that much less likely to have a second ongoing life with internet users. By incorporating your branding in a subtle way and prioritizing entertainment, your GIF makes more sense in common uses. And even though the branding may be subtle (like a small, gray watermark, for example), you'll increase your reach by not overpowering the GIF's message.
Of course, this does not apply to any product-specific GIFs you may want to create. Remember, it all comes down to the goal of your GIF. You want to feature a product in an eye-catching way? Do so. But if you want your GIF to be widely used, consider subtle branding options.
Use text to make it a meme
Memes and GIFs are both informal and fun and can offer commentary on pop culture as well as express emotions. A meme is an image that portrays a particular concept or idea that then usually spreads through online social platforms. Text is often overlaid onto the image to convey that intended message.
By adding meme-like text to your GIF, you greatly enhance your content's potential for going viral or at least reaching more users.
Keep in mind that GIF engines also look to see if there is text within your GIF. This helps them understand what your GIF is about, which can help the discoverability of your GIF.
Don't forget to try creating your own memes. It's a great way to engage with your audience and add a personal touch to your online presence.
Explore GIF stickers for social media reach
Interested in your reach via Instagram Stories and Snapchat Stories? Consider GIF stickers. They're what Instagram and Snapchat users can place on their Stories.
By uploading your GIFs into your GIF search engine of choice, they will be available for consumers.
This approach helps leverage users into brand ambassadors.
Leverage emotion with reaction GIFs
A primary purpose of GIFs is to express emotions, so many of the most popular GIFs are reaction GIFs. This refers to when GIFs are used as a response that showcases an emotion.
Sharing a GIF where a person is jumping up and down and clapping is more expressive than simply typing: "Excited!"
Of course, if your product or service ties into human emotion (such as "hungry" for a restaurant), you'll want to create GIFs for the emotions that your product or service directly solves. If this isn't the case, focus on content for popular reactions and emotions in general.
Conduct keyword research
Keywords are an important element to any successful SEO strategy or pay-per-click campaign, but did you know that they matter for GIF strategy, too?
So, keyword research is critical to getting your GIFs seen by your target audience. A best practice. Consider the purpose and goals of your GIFs. This will help you narrow down which keywords you want to use. Then, you can make your content for specific keywords for a better chance to rank in searches.
Timing matters
GIFs are short but not too short. Ideally, you want to get your message across in between 2 and 6 seconds as another best practice.
If you go shorter than 2 seconds, your GIF will be more like a strobe effect. If you go longer than 6 seconds, you risk losing the attention of your viewers.
Make sure that your GIFs loop cleanly as well. You'll want a clear start and finish, but pay attention to how the last frame of your GIF transitions back to the first frame. Best practice: Aim to be as seamless as possible.
In conclusion
GIFs can be a powerful addition to your digital marketing strategy. Make sure to have a plan first before you venture into their use and creation.
To help you create your own, check out these 11 free GIF-maker tools.